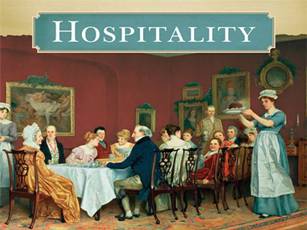 I have been all over the world, and I have often been the recipient of hospitality in my ministry travels. On more than one occasion I have been blown away by the generosity of others.
One of my passions is to spread the ideas of a Biblical Christian Worldview. As I have studied the Bible about this, I have been pleasantly surprised about how many real and practical things can be lived out in day to day life to see the Kingdom of God advanced in the earth!
One of those areas is hospitality!
You might not think you can do much to advance the gospel, but you never know how much is happening when you simply share your life, your home, and basic Christian hospitality with your neighbors.
You might desire to be a great evangelist. You want to see lives changed by the Love of God.
Start with a cup of cold water, a few minutes sitting in your living room over snacks with a neighbor, helping someone carry in their groceries.
A Christian Transformational Worldview starts with the little things!
My heart cry to God:
"Father, I need your heart for my neighbors! I need your heart to have a more open home and a more sharing heart!"
I was inspired to think about this today by this article at AmericanVision.org:
"What if I told you that Christian hospitality was a necessary key to reclaiming our culture for Christ? It may sound a bit extreme, but if you think about it for a minute it makes sense. Influence flows over time to those who serve. As Christians more effectively show hospitality by opening their lives to and serving others they will begin to affect their surrounding communities and culture at a very fundamental level." [Read More]